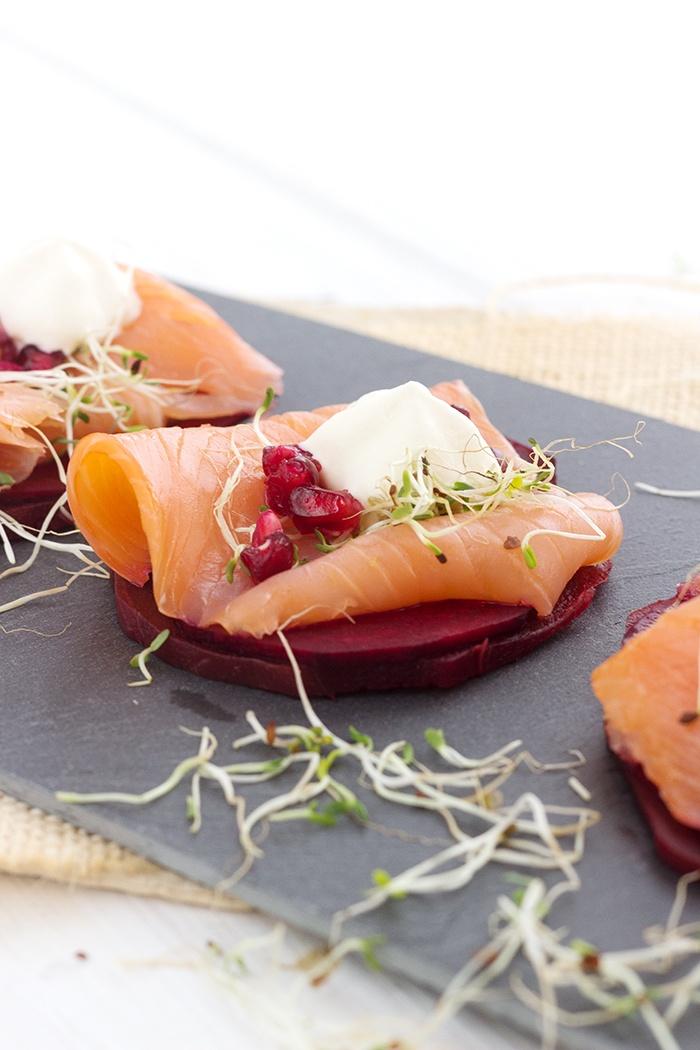 Damn, it's already back. Wake up at 9am, it's already over (yes, we managed to shift the little one to sleep in!). Can't wait the next holidays! In the meantime, if you still have smoked salmon leftover not knowing how to eat it anymore. Here is a refreshing recipe to stock up on vitamins: Beetroot toast with smoked salmon and horseradish mousse
I made this recipe for January Cooperation magazine. They tested the recipe and adapted it a little bit to match their own taste. You can read their version of the recipe here (in french), or read the entire magazine Cooperation (in french).
Beetroot toast with smoked salmon and horseradish mousse
Ingredients
30

gr

of horseradish

2.5

dl

whole cream

very cold

1

raw red beet

1

cooked beetroot

1

grenade

30

gr

of alfalfa and rocket sprouts

150

gr

of smoked salmon Labeyrie
Instructions
Grate horseradish very finely in the whole cream. Mix and let stand in the fridge for a good hour. Slice the raw beet finely on the mandolin and make a slightly thicker slice of cooked beetroot. Book. Open the pomegranate and remove the seeds. Book. Pass the horseradish cream mix to the Chinese, put it in your chilled siphon with a cartridge, shake and test.

For assembly, place a slice of raw beet on a slice of cooked beet, it will be your toast. Add a slice of salmon and horseradish mousse. Finish with a few pomegranate seeds, a few sprouts of alfalfa and arugula.

Variation: if you do not have a siphon, whipp the cream and add the grated horseradish on the end.