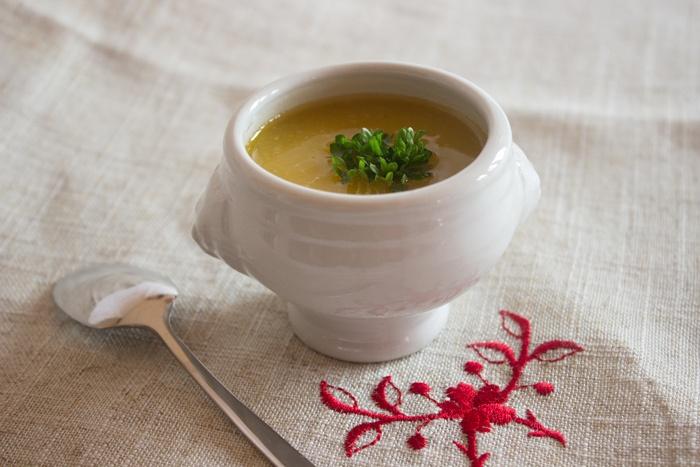 My local supermarket is currently full of pumpkins and chestnuts. As a result I though to share with you this little verrine recipe. As I told you last time, verrines are not just about new age food but also about revisiting traditional recipe as well.
This soup is one of my favourites. When you serve it in verrines and you eat it with a teaspoon, you can better feel its flavour. I used butternut squash. In Europe, we most of the time interchange the different types of pumpkins in the recipe. But I have to admit that I quite enjoy butternut squash and their taste is really distinct from the others.
Did you know that the pumpkin was only introduced in Europe around the sixteenth century? We already had the pumkin we still use for Halloween but all the others ones came from South America.
If you like this soup, you might be interested in reading the recipe of this delicious bicolor soup. Maybe your children will be more interested on that one : Zucchini and laughing cow cheese soup.
Squash and chestnut soup verrine
Ingredients
1

kg.

of butternut pumpkin

2.2 pounds

2

onions

1

l.

of water

4.2 cup or 33 oz

65

gr.

of peeled and cooked freshchestnuts or canned chestnuts

2.3 oz

1.5

teaspoons

of salt
Instructions
Peel, seed and slice pumpkin. Peel and slice onions. Chop finely chestnuts using an electric mixer.

Add pumpkin, onions, salt and powdered chestnuts in 1 liter of water.

Bring to a boil. Reduce heat and leave to cook until pumpkin slices are soft.

Mix vegetables with a hand blender and pour in your verrines. Serve immediately.
To find more recipes, visit the recipe index!