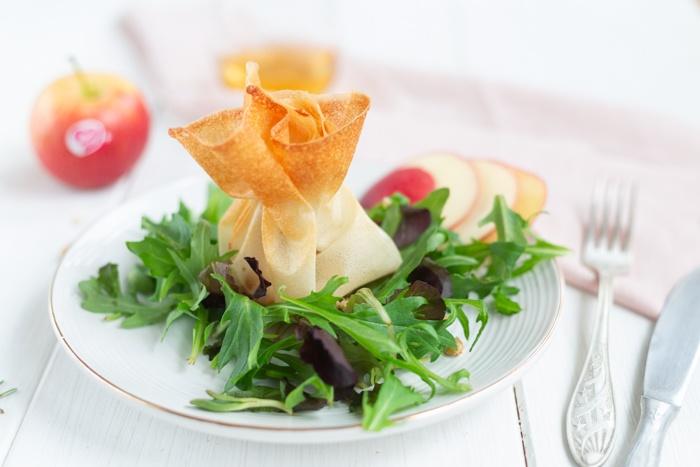 When it's warm and it feels finaly like summer arrived, nothing beat a good and fresh salad. But that's not always easy to find new recipes and ideas. Today in collaboration with Pink Lady here is one, I propose you a green salad served with hoots accompanied by its fresh goat cheese, Pink Lady apples, dried figs and walnut kernels.
Do not hesitate to try your luck on the site https://win.pinklady.ch/fr/ with the code: PL333444 . Pink Lady organizes a great contest until June 30, 2019. Good luck!
Reggar's purse (aumoniere) filled with fresh goat cheese and Pink Lady apple
Ingredients
8

brick pastry

2

apples

(Pink Lady)

8

dried figs

8

walnuts

8

tsp

honey

liquid

300

gr

fresh goat cheese

kitchen string

1

salad

4

tbsp

olive oil

4

tbsp

balsamic vinegar

4

pinches

salt flower

pepper

(from mill)
Instructions
Dice the dried figs. Crumble the walnut kernels. Slice apples into thin slices. Reserve.


In each brick, put a slice of apple, cover with fresh cheese, add a little dried figs, walnuts, a teaspoon of liquid honey. Close them and tie them with a kitchen string.

Preheat your oven to 200 ° C. Bake for 10 minutes.

Meanwhile, prepare your salad and add the remaining apples (figs, nuts if you have any left), balsamic vinegar, olive oil, a little fleur de sel and pepper.

Mix and serve with 2 reggar's purse per person.