Next recipe for this mexican week with homemade guacamole. This recipe, I get it from Paille, a friend of my husband. From the beginning of our relationship, we always invited some friends to come over every week-end. But that was not so easy to feed everybody all the time, so we were doing kind of Canadian diner. Each guest bring something to eat, drink and we share everything.
Once upon a time Paille made a delicious guacamole and after this, we never asked him to bring something else. Even when he had no time to pop by the supermarket before coming to our place, we were buying all the ingredients so we were forcing him he could make his delicious guacamole.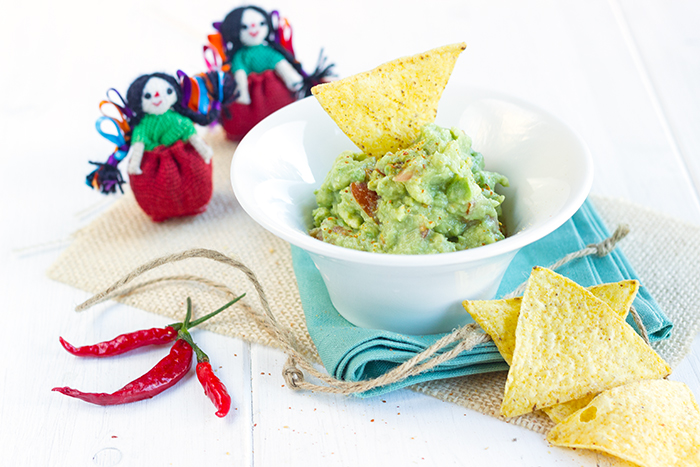 Now that he left us to live in Vietnam, we have to make our own. So I was thinking that it could be a good idea to write it on the blog so we could make and remake this recipe for ever and ever.
Anyway fajitas without any guacamole for my point of view, that's not fajitas (I love guacamole too much). My favourite part is when I am stuffing my tortilla with guacamole. So yummy!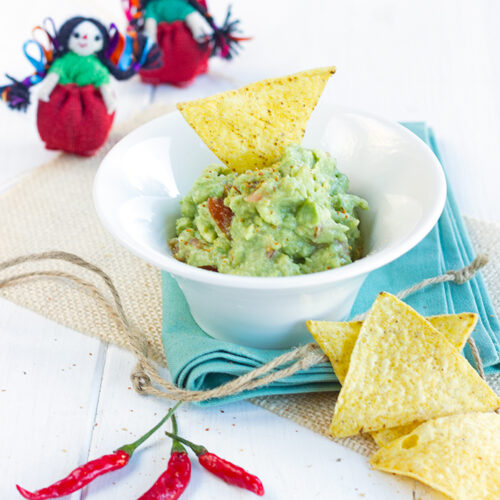 Homemade guacamole recipe
Ingredients
3

avocados

1

onion

1/2

tomato

1/2

lime

1

garlic clove

1

tbsp

olive oil

1

chili pepper (or more depending on your taste

pepper , salt

salt
Instructions
Open avocado, remove flesh and put in a mixing bowl.

Chop finely onion, chili pepper (after seeding – please do not touch your eyes or lips after this step). Add in your mixing bowl.

1 onion,

1 chili pepper (or more depending on your taste

Remove tomato flesh and dice. Put in the bowl.

Add lime juice (press it with your hand), olive oil, pepper, salt and pressed garlic.

1/2 lime,

1 tbsp olive oil,

pepper , salt,

1 garlic clove

Mix using a fork until you get an homogeneous paste.
Tip for guacamole preservation :
Guacamole taste always better if you make it the same day, however if like us you like to cook on sunday for the rest of the week, you don't want your guacamole to turn black. So cover with plastic wrap. Plastic must be in contact with guacamole with no air in between.