If you're looking for a bit of a twist on your Halloween recipes, why not go for a spooky blueberry pie?
We have been organizing Halloween at our house for several years. We have always had a large apartment with the capacity to accommodate many people and above all beyond the food, I also have a passion for disguises. Pretending to be someone else, just for a few hours, always gave me a sense of escape.
We met at first only between adults (or pre-adults) then the children inevitably ended up arriving and we became more and more numerous at the table! Halloween, with us, has become a tradition.
The first year, it was quite easy to come up with ideas. The second year, a little less. The third year, I felt like I had gone through everything I had found on the internet :).
Then also with children, we want them to have fun, that they devour sweets of course, but also that they eat healthily! So here is the scary blueberry pie, cut by my husband (he's good huh?).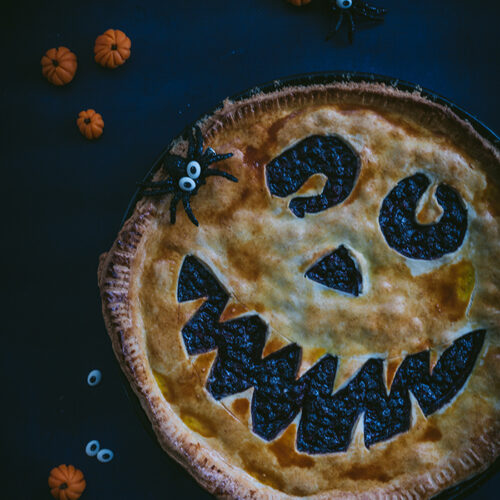 Halloween blueberry pie recipe
Do you want your kids to eat healthy even during the Halloween period? Try this spooky blueberry pie Halloween recipe.
Ingredients
Sweet Pastry
450

gr

flavor

100

gr

sugar

1,5

dl

water
Blueberry pie
600

gr

blueberry

100

gr

sugar

1

dl

cream

1

egg

1

egg

yellow
Instructions
Sweet pastry
Mix the flour, butter, sugar and water in a food processor until a smooth paste is obtained.
Blueberry pie
Roll out half of the pie dough with a rolling pin.

Pour the blueberries over the batter.

Mix cream, egg and sugar.

Roll out the second part of the pie dough.

Cover and pinch edges of pie.

Cut out the effigy of your favorite monster in the pie.

Preheat the oven to 200°C.

Brush the pie with a brush, mixing an egg yolk with a tablespoon of water.

Bake for about 40 minutes.