I am hosting the Battle Food of this month, thrilled. Please check the French version of this post, if you want to know more about it. As a result I had to choose the theme of this month which is Mille-Feuille. However I had too many recipes ideas. So much that I had just no idea which one to choose and that I have decided to make a classic one. I have made a long time ago a delicious raspberry mille-feuille and today is the time for me to make a more traditional one.
When I begin, I was like. Yeah this will be easy ! Finger in the noise. But … alright I bought the puff pastry … Next time promise I will try home made … And then coffee extract … arg … couldn't find it in Switzerland at the Coop … So I needed to make some … At the end I spend way much time that I was expecting … But I hope you will enjoy it !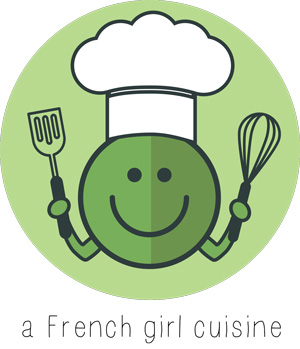 New logo :
I don't know if I noticed but a French girl cuisine got a new logo. Few months that I am asking desperatly one of my colleagues to help me on this one. What do you think ? It's changing a lot and at the beginning I was quite puzzled. But I think Hugo understood everything I had in mind even if I wasn't quite sure myself :). So I am very happy with it !
Classic Mille-feuille
Ingredients
Pastry cream
0.5

liter

of milk

1

vanilla bean

2

eggs + 1 egg yolk

80

gr.

of sugar

30

gr.

of flour

100

gr.

of diced butter
Extract coffee
10

gr.

of soluble coffee

1

dl.

of water

80

gr.

of sugar
Icing
100 – 120

gr.

of powdered sugar

1

egg white
Instructions
Mille-feuille
Preheat oven to 180°C.

Cut both pastry in two parts. Riddle with holes and bake 3 pieces in between two baking tray for 18 to 20 minutes so they do not raise. Reserve. You can keep the last pastry to make some mini-tartelettes for your aperitif !
Pastry cream
Pour milk in a saucepan. Seed vanilla. Add vanilla to the milk. Heat.

In the meantime, mix the 2 eggs and the egg yolk (reserve the white). Add flour.

When milk is warm, pour half of it together with the egg mixture. Stir, add the second half and mix again.

Heat again on low/medium stirring regularly until the cream thickens. Remove from the heat and add diced butter. Mix to melt butter and leave to cool.
Coffee extract
Bring 1 dl. of water to a boil. Mix together with coffee and reserve.

Heat sugar with 3 teaspoons of water until it caramelises. Add warm coffee and stir constantly on low heat until you get an homogeneous mix. Refrigerate.
Montage
Cut up the pastry again so they have all the exact same size.

Cover the first one with pastry cream, add the second one on top and cover again with pastry cream. Add the last pastry.
Icing
Mix around 100 to 120 gr. of powdered sugar together with the egg white until you get the texture you are looking for. Ice the mille-feuille. Draw parallel lines with coffee extract. Use a pastry bag or a freezer bag with a little hole. Using the tip of a knife draw perpendicular lines so it looks like a Mille-feuille.
Thank you very much for reading. Register to the newsletter or follow me on social media to receive the latest recipes.