I made this vanilla custard recipe for my new participation to the Foodista Challenge. In case you want to know more about this challenge, please check the French version of this post. Thanks god, this month I did not forget the date … However I forgot to add vanilla pods on my pictures … A must … I completely forgot … again … Nevertheless to make to you guys, I took a picture exclusively with vanilla pods ! I run out of these little custard so quickly that I did have the time to bought some in the meantime … Maybe next time I will not forget anything …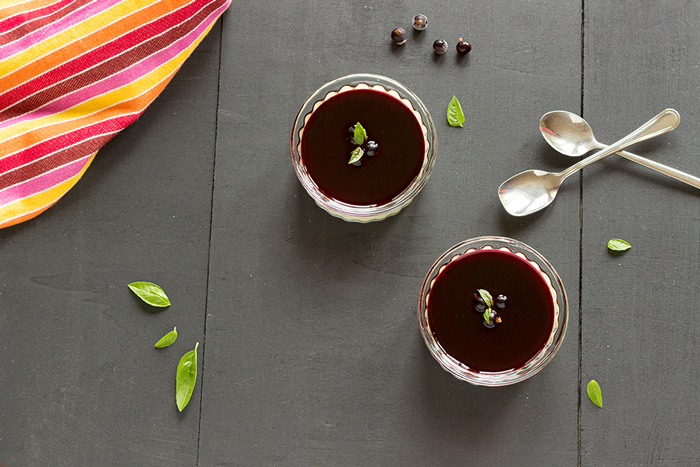 I hope that you will enjoy this vanilla custard recipe with home made blackcurrant coulis. Easy, quick and tastefull, my step family loved it (hope that was true 🙂 ) !
Vanilla custard recipe with home made blackcurrant coulis
Ingredients
Custard
1

liter

of milk

2

vanilla pod

8

eggs

200

gr.

of sugar
Blackcurrant coulis
360

gr.

of blackcurrant

100

gr.

of sugar
Instructions
Custard
Preheat oven to 150°C.

Cut and seed vanilla pods.

Heat milk together with vanilla.

In the meantime, whisk eggs and sugar.

Pour warm milk on top of egg/sugar mixture and mix.

Pour in individual pot/jar.

Place on a baking tray and fill in your baking tray with water to make a water-bath.

Bake for 45 minutes.
Blackcurrant coulis
Wash blackcurrant and heat with sugar until you get a kind of coulis. Sieve and reserve.

Remove the custards from the oven and leave to cool.

Add some coulis on top of each custard and serve.
Thank you very much for reading. Do not hesitate to register to the newsletter or to follow me on social media in order to receive the latest recipes.