While my Breton grandmother from Finistère made us eat savory pancakes in wheat pancakes… My husband far prefers buckwheat pancakes made with delicious buckwheat flour. And yes, at her place, we didn't eat it, it was reserved for the poor. It is true that she lived on a dirt floor and that she started working at the age of 14, if that is what you call being rich …
Buckwheat flour, this flour so dear to our hearts that allows me to make my grandmother's recipes such as kig ha farz, for example.
Today as we are approaching the hour of candlelight, by the way, the day of my daughter's birth. And yes, even in these hours my love for food resurfaces … Today I am sharing with you a recipe for a savory buckwheat pancake.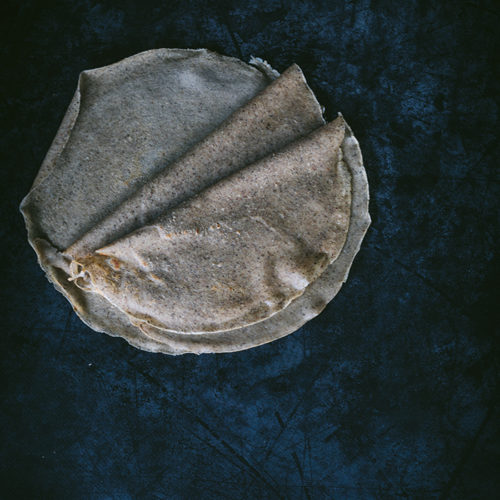 Buckwheat crepe recipe
A buckwheat pancake recipe that will allow you to make buckwheat pancakes not too brittle to be easy to cook but not too creamy to change from wheat pancakes.
Ingredients
250

gr

buckwheat flour

3

eggs

3

dl

milk

2

dl

water

2

tbsp

grapeseed oil

1/2

tsp

fine salt

butter
Instructions
Prepare the milk and water mixture.

Pour the flour into a bowl.

Add the 3 eggs, oil, salt and a third of the milk-water mixture.

Mix briskly with a hand whisk until no more lumps are present.

Gradually add the rest of the liquid while mixing to obtain a smooth paste without lumps.

Heat a pancake pan.

Melt a little butter and spread over the entire surface of the pan using a piece of absorbent paper.

Cook for 30 seconds on each side
Tips for successful buckwheat pancakes
There are many tips for making successful pancakes.
The first, get a pancake pan. You may think it's unnecessary … when it isn't … If it was invented it was for good reason.
Butter your pan well so that it doesn't stick and it's best especially with butter.
Leave the pancake batter to rest for a good hour.