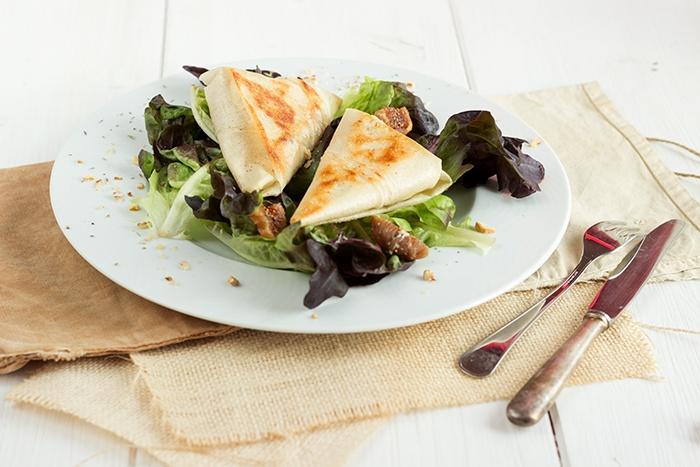 Something fresh in our plates with these brick with fresh goat cheese, apple, dried figs and nuts together with a little green salad of course. After this food marathon for our liver and stomac, christmas, new year, epiphany and soon "crêpes" … I have to admit that I can't take it anymore.
Looking like a gigantic ball. Yes, I will soon have my little girl. I am writing from my couch like a beached whale … or whatever large animal with huge difficulties to move … So even if this is maybe the only time of my life where I am almost allowed to gain weight, I am trying to limit the madness.
Anyway I am not proposing you a diet dish today, but I am not trying to loose weight either :-).
Goat cheese, the cheese that's saved my life these last few months, as Roquefort had to be banished … so many things you can't eat while you are pregnant – a true nightmare. I had to convince my nice French family to bring me secretly some roquefort cream. Not possible to find any in Switzerland … (same taste, less bacteria). As soon as she is born, I send my husband to the supermarket to buy me a huge piece of roquefort and I will eat this with a spoon! Or maybe with an endive leef, to feel less guilty.
Thanks that here we can find some pasteurised goat cheese.
Brick sheets are a bit like filo pastry sheets, but easier to work with. We use them a lot in France and they come from Tunisia. Hope you find some near your place.
Bricks with goat fresh goat cheese, apple, dried figs and nuts
Ingredients
8

bricks pastry sheets

8

little fresh goat cheese

1

apple

4

dried figs

2

nuts

a bit of pepper

salt and thyme

a dash of seed grape oil
Instructions
Put dried figs in warm water to rehydrate.

Wash and slice finely apple.

Open nuts and slice finely.

Dice figs.

Fold the sides of the bricks inward to obtain a kind of a rectangle. The 3 parts must overlap eachother. Place at the extrem bottom right some, apple, fig, nut and 1 little fresh goat cheese. Sprinkle with thyme, salt and pepper.

Fold left to form a triangle, then fold right, then left and insert surplus in the triangle to close it.

Repete the process for each bricks.

Then fry 3-4 minutes on each face in a frying pan with some seed grape oil and serve!