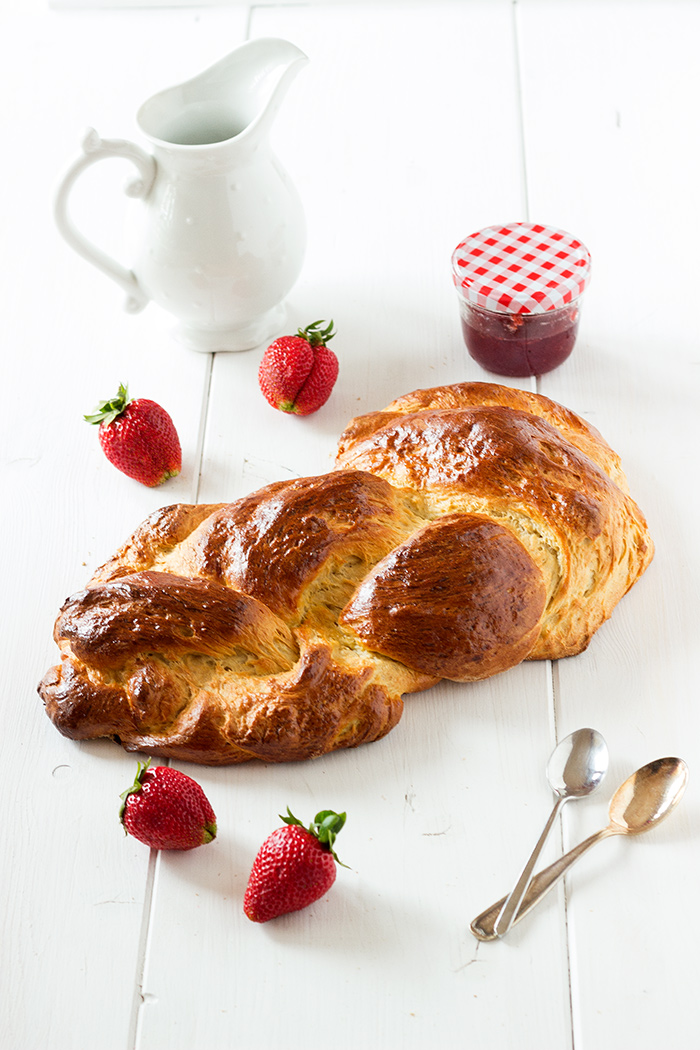 This month for the Bataille Food challenge, I am sharing with you a typical recipe of my host country, Switzerland, the butter braided bread. As I do not want to be too classical, I baked the version using spelt flavour. I used the recipe of Betty Bossi, the reference here in cooking. Every Swiss family got at least one of her books.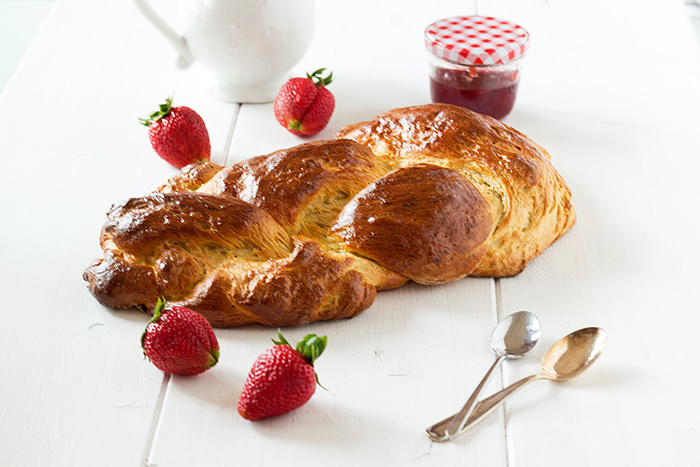 Few years ago, a French bakery chain named PAUL, not sure if you ever heard about it where you are, came in Switzerland and open a large shop in Lausanne's center. But they shut down the store very quickly, that's was a complete disaster. A Swiss needs his butter braided bread on sunday … and PAUL didn't adapt their offer to the local customers. A shame because unlike the Swiss, I love PAUL and their croissants.
Speaking about Switzerland, I got great news, only 2 more years to wait before I can apply to become a Swiss citizen ! I hope that they will take my Swiss cooking into consideration :).
Spelt braided bread
Ingredients
3

dl.

of milk

60

gr.

of butter

400

gr.

of spelt flour

100

of butter braided bread flour

normal / white flour

2

pinches

of salt

1

tablespoon

of sugar

20

gr.

of fresh yeast

1

egg yolk

1

tablespoon

of milk
Instructions
Dice butter. Heat milk with butter and remove from the heat when milk is just warm.

In the meantime, mix both flour, salt and sugar.

Add milk and butter. Crumble fresh yeast.

Knead using your hands until you get an homogeneous paste. Cover with cling film and let rise 1h30 until double in size.

Divide the dough into two pieces. Make strips about 60 centimeters long. Braid strips. Make a U up side down and braid again.

Put on top of a baking tray covered with baking paper.

Mix egg yolk with milk and brush bread with half of this mixture and leave to rest another 30 minutes.

Preheat oven to 200°C. Cover with remaning egg yolk and bake for 35 minutes. Cover with aluminium foil the last 10 minutes.
If you want to know more about this challenge and check the blog of the others participants, please check the French version of this post.
Thank you very much for reading. Register to the newsletter or follow me on social media to receive the latest recipe of a French girl "cuisine".