I just came back yesterday. I was spending a very, very long week-end in Montpellier. So lucky ! However summer and holidays are … definitely over … Once again, it was too quick … I hope that we will still have few more nice days before fall comes.
For my own comfort, I am most of the time laying on my couch in front of the TV under a large blanket or in a warm bath reading. Anyway this is always something related to "warm" or "sugar" 🙂 !
Speaking of which … Jam is one of my favourite sugar. That's the best. On top of some bread, croissant, in a yoghurt or a tart … It goes with everything ! Almost …
I hope that you will like this jam as much as the mother of my best friend loved it 🙂 ! I made it for the Bataille Food #26 organised by Florence du blog Un "Flo" de bonnes choses. If you want to know more about this food contest, read the French version of this post :).
And you will find below the recipe.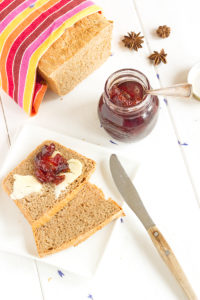 Plum jam with spices
Ingredients
2

kg.

of plums

1.2

kg.

of sugar

the juice of 1 lemon

1

level teaspoon of gingerbread spices

coriander, star anise, cinnamon, clove
Instructions
Wash, seed and dice plums.

Mix fruits with sugar, lemon juice and spices.

Leave to rest one night in your fridge.

The next day, cook the mixture in a large pot on medium/low heat for around 60 minutes.

Remove foam regularly monitoring the cooking process.

To check if the jam is ready, drop a bit of jam on top of a clean plate and if it sticks fill in your sterilised jars. Do not hesitate to place your plate in your fridge, so the jam will cool down more quickly.
Thank you very much for reading. Register to the newsletter or follow me on social media in order to receive the latest recipes of a French girl cuisine.