Onion confit is a must have on French tables during the end of the year festivities. We usually associate this onion marmalade with foie gras toasts for Christmas or New Year eve dinner. Each year I am making some and my kitchen is full with onion confit jars. This is possible to use this marmalade in many others recipes for those who are not big foie gras fan like my mother in law.
This is delicious to simply spread some onion jam on toast. If you are more motivated you can also turn your left over into these tasty tartlets.
If unlike me your kitchen isn't full of jars, you will need first to make some onion marmalade. I usually make mine one day before baking my tartlets. Confit tastes always better one day later.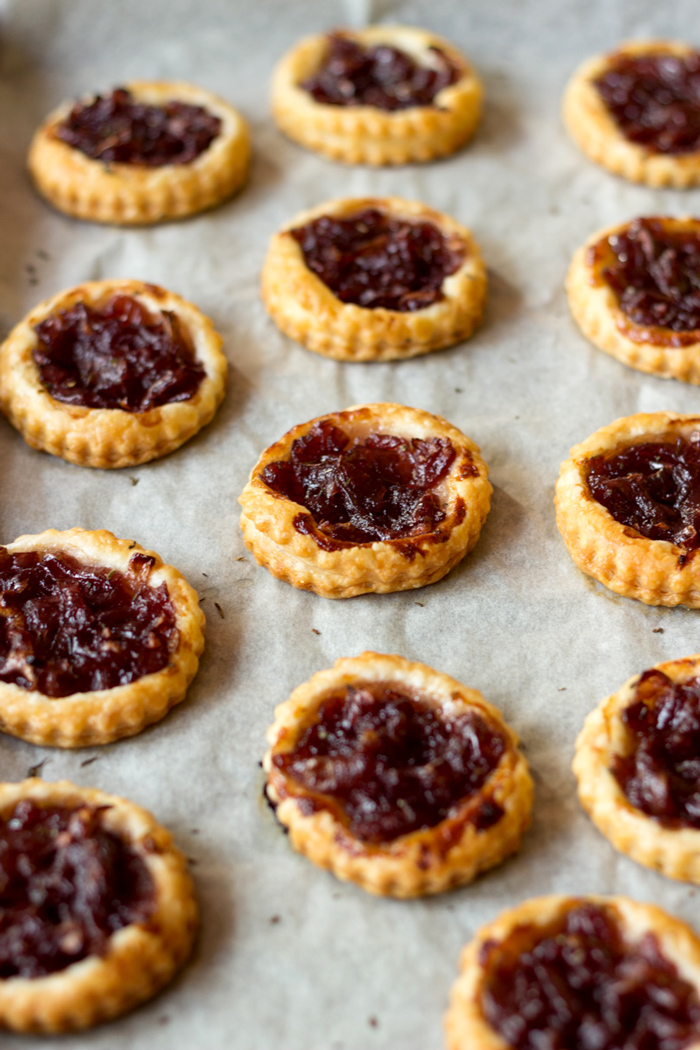 You will need approximately 1 hour and 30 minutes to cook onions. During the first 30 minutes, onions have to become translucent and melt in mouth. A crucial part here is to carefully monitor cooking process so onions don't get burnt. Sometimes I add some water so I can do something else in the meantime.
This is only when onions are set that you can add red wine. Adding wine before end will stop cooking process and you will get crunchy onions.
I bought one circle and could make 18 tartlets with it. I thought I made too much on the 25th of December; but every single tartlets got eaten in 10 minutes…. You better make more depending on how many guests you got.
Onion confit tartlets
Ingredients
300

gr

sliced onions

11 oz.

0.25

dl

grape seed oil

2 tablespoons or 0.8 oz.

1.5

dl

red wine

2/3 cup or 5 oz.

40

gr

white sugar

1/5 cup or 1.5 oz.

salt

pepper

1

puff pastry

Fresh Thyme
Instructions
Peel and slice onions. Heat oil in a medium saucepan; add onions, cover and leave to cook on low heat until translucent regularly monitoring cooking process (approximately 30 minutes). If you do not wish to monitor cooking process, add 1.5 dl. of water and remove extra water when onions are set.

Add red wine, sugar, a pinch of salt and a turn of pepper mill. Leave to cook until there is no wine left monitoring cooking process (approximately 1 hour). Reserve and leave to cool in your refrigerator.

Preheat oven to 200°C (400°F). Cut out circles of dough (diameter 7 cm or 2.75 inches). Prick with a fork.

Add a bit of onion confit on each circle and some fresh thyme on top.

Serve warm or cold.