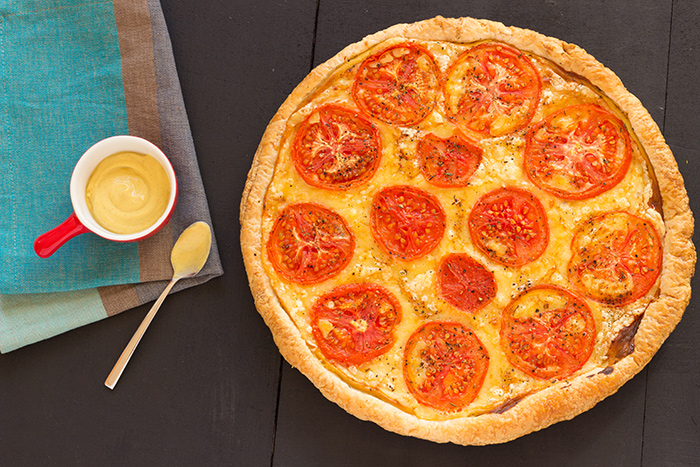 Strangely this mustard tart was always around while I was growing up. My grandmother was baking one for all family meals. We loved this tart so much with my sister and my brother… The smell of the warm tart was so appealing. We just couldn't resist. We were telling my mum that we were getting hungry and we wanted a little piece of the mustard tart to wait for the actual meal. She was always conceding to our little tantrums. But that was one little piece and then one other little piece and so on until nothing was left. This tart was so tasty you know.
Later as a teenager, I was always asking my grandma to bake one for my birthday party and before leaving the house to study I asked her to teach me how to bake this famous mustard tart!
Now I am baking one for all our parties, or when we need to bring something over to a friend's party. Only 40 minutes and 5 ingredients to bake this delicious tart. You must give it a try.
The Mustard Tart – A Recipe of my GrandMa
Ingredients
1

round puff pastry

3

tbsp

Dijon mustard

2

big

tomatoes

200

gr

Emmental

1

tsp

thyme

pepper
Instructions
Preheat oven to 200°C (400°F).

Put pastry base in your oven dish and prick with fork.

Slice tomatoes. Slice finely cheese.

Spread a generous layer of mustard. The spicy aftertaste of the Dijon mustard will disapear during baking.

Add a layer of cheese on top of the mustard and finish by a layer of tomatoes.

Dust thyme and pepper.

Bake for 30 minutes.
You can serve as a starter, as a main course associated with a green salad or as an appetizer.