A traditional dessert in the south of France for the holidays, here is my recipe for frozen nougat with its raspberry coulis.
It's almost 15 years since I moved to Switzerland. It's starting to take a long time. I am not yet that old and I still remember the Christmas holidays in the south of France.
It was strange never to see snow, not even on the mountains in the distance. Sometimes when we were lucky we could spot a soft white coat in our garden and had to rush outside before it melted around noon.
To make a snowman with a thin layer of a few centimeters is impossible, to see a miracle, but it was our own little miracle and we had a lot of fun.
Usually no snow here, but a plethora of seafood, foie gras, and often a frozen nougat for the end of year celebrations. And you, do you have snow in your area?
To be honest, little one, although I really liked the ice cream and the raspberry coulis, I was not a big fan of dried fruits and nuts, they were too crunchy. But now I'm grown up and I'm crazy about it.
It's a nice idea for the holidays because it's not too complicated to do, and especially since it can be prepared in advance.
Here comme the recipe :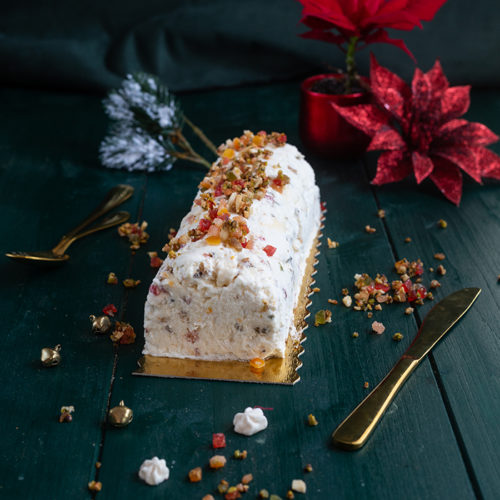 Ice nougat recipe
Try this frozen nougat recipe with its delicious raspberry coulis. Perfect for all occasions.
Ingredients
Garnish
25

gr

chopped almonds

25

gr

chopped pistachios

20

gr

sugar

100

gr

candied fruit
Iced nougat
70

gr

honey

20

gr

glucose

50

gr

sugar

4

egg whites

250

ml

full cream
Raspberry sauce
500

gr

frozen raspberries

4

tbsp

water

50

gr

sugar
Instructions
Garnish
Heat a frying pan. Sauté the almonds and pistachios for a few minutes without toasting them. Pour 20 gr. sugar to caramelize them. Then add the candied fruit. To book.
Iced nougat
Beating egg whites.

In a saucepan, heat the honey, glucose and sugar to 120 ° C.

Gradually pour the mixture into the snow whites while you continue to whip them up. You will get a shiny meringue. To book.

Be careful not to touch the bowl or whisks, and if you do, soak them in boiling water and wash them off quickly so the caramel doesn't stick.

Whip the cream into whipped cream then gently fold into the meringue. Add the candied fruit, almonds and pistachios.

Place in a silicone log mold. If it is a metal mold, cover with cling film beforehand to facilitate demolding.

Place in the freezer until the ice sets. 12h approximately.
Raspberry sauce
Cover the raspberries with the water and sugar to reduce to a puree.

Pass through a sieve to remove the seeds.

Place in the refrigerator.