That's not so difficult to make homemade fresh pasta and so delicious. What's great is you can use different kind of flour like spelt flour for exemple and even color them! That's not cheaper than buying them in the supermarket, but it tastes way better and you can conserve them pretty easily.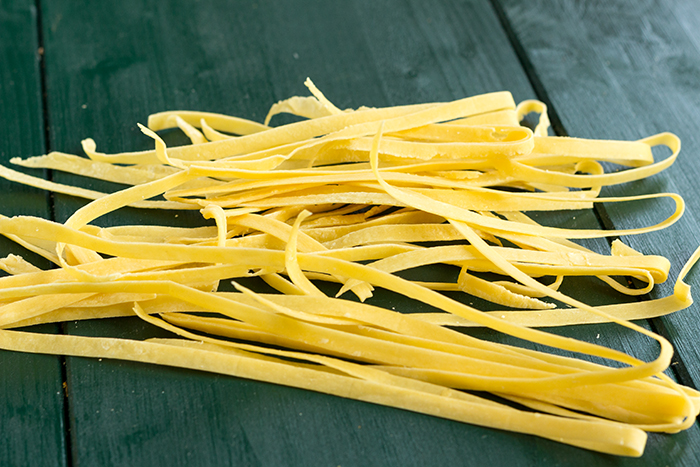 Don't worry, I still buy some pasta in the supermarket, because if I do everything myself, I will not have enough time left to be able to work 🙂 … But homemade pasta, that's my thing!
I hope that this easy recipe will motivate you to make your own pasta! If you want some help to actually make them, why not organise a pasta party with your friend, people usually find that's great and that's funny. And why not try to make the longuest pasta ever, with more arms, that's easier!
Fresh pasta recipe
Ingredients
300

gr.

of flour

3

eggs

1

tablespoon

of olive oil

1/2

teaspoon

of salt

A bit of water around 1 tablespoon
Instructions
Put flour in a mixing bowl or in your food processor. Make a well in the center and add eggs, olive oil and salt.

Mix while you get a homogeneous dough. Add a bit of water if dough is too dry.

Now you can make some ravioli, lasagna, … what ever you want!

Do not forget to cover the dough with plastic foil while you are making your pasta so the dough doesn't dry.

If you are looking to make some tagliatelles like me on this picture. I using a manual pasta machine, type MARCATO, and then I dry them on a pasta dryer. This drying part is very important. They have to become brittle. Then I conserve the pasta in large jars for weeks. But because they taste so good … We always finish them too quickly …