I baked this tart this afternoon. I already had lunch and was not hungry at all anymore. However this tart smelled so good… My stomach let out a loud rumble while I was taking pictures! This was so difficult to not take a little piece of this delicious onion tart.
I was baking for next week. I like to make a tart and eat one piece a day with a green salad for lunch. Adrien likes it too, then he can take one piece at work too. I am so waiting tomorrow to eat a large piece of this tart. I really like to take home made food at work. This is always healthier, cheaper and tastier, don't you think? Unfortunately this is time consuming and this is easier to buy a sandwich or to eat in a little restaurant next door.
If like me you enjoy baking plenty of tarts, you can have a look at the tarts and pie archives. This one is a classic French tart filled with onions.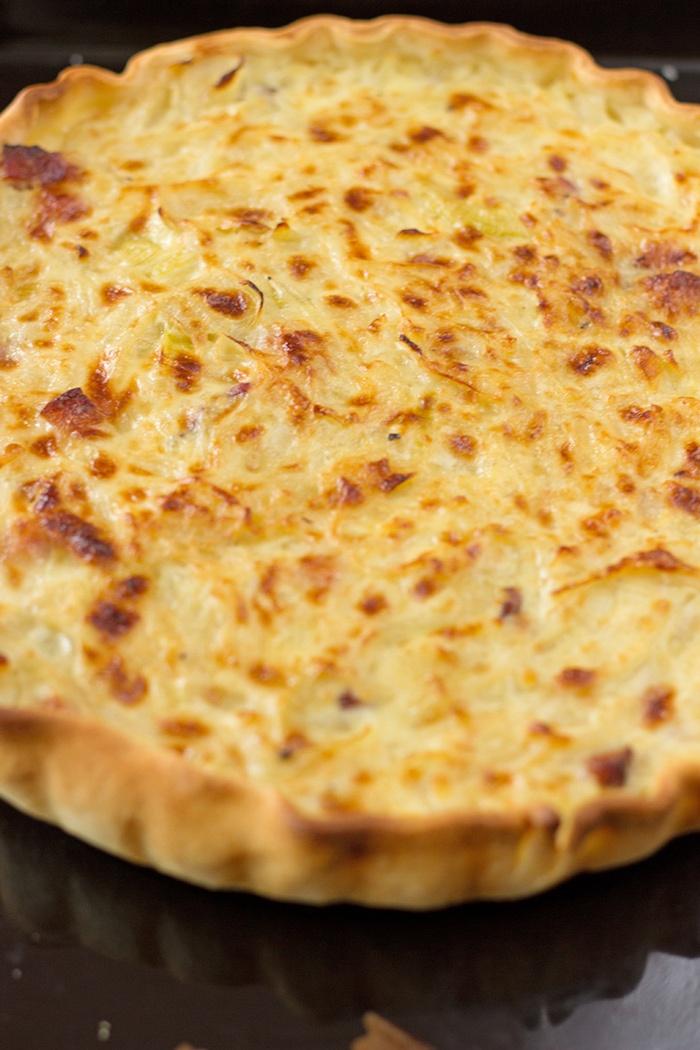 French onion tart recipe
Author:
Prep time:
Cook time:
Total time:
Ingredients
1 kg. of onions (2.2 lb.)
100 gr. of bacon strip (3.57 oz.)
2 tablespoons of flour
2 dl. of cream (0.8 cup or 6.6 oz.)
2 dl. of milk (0.8 cup or 6.6 oz.)
salt
pepper
1 egg, mixed
1 short crust pastry
Instructions
Slice and brown onions with bacon strips for 20 minutes. Add flour and mix. Pour milk and cream and bring to a boil. Add egg stirring quickly and season with salt and pepper.[br][br]
[img src="http://www.frenchgirlcuisine.com/wp-content/uploads/French-onion-tart-recipe-3.jpg" width="700″ height="1050″ class="aligncenter size-full" title="French onion tart recipe" alt="French onion tart recipe"]
Preheat oven to 250°C (480°F). Put pastry in your oven dish. Prick with a fork. Pour onions top of the pastry. Bake for 15 minutes. Low down temperature to 220°C (425°F) and bake for another 10 minutes. Serve with a green salad or as a starter.
Thank you very much for reading. Register to the newsletter or follow me on social media to receive the latest recipes of a French girl "cuisine".