Hello! Hello! Did you have a nice week-end? I did! I spent a wonderful time with my best friends. We made this delicious Tabbouleh on Sunday before going to the lake.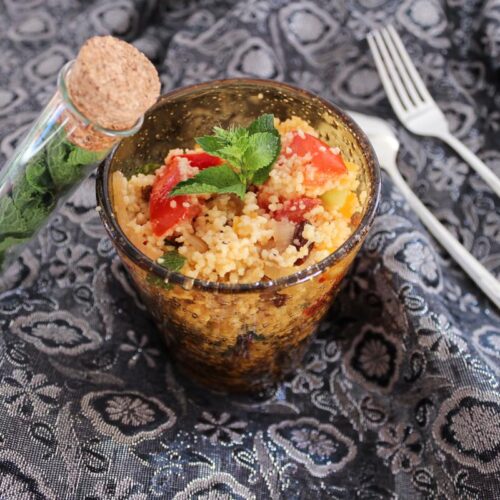 Couscous Tabbouleh Recipe
Ingredients
500

gr

couscous

3 cups or 1.1 lb.

3

onions

6

tbsp

dried grapes

2

tbsp

brown sugar

1

cucumber

4 to

matoes

1

yellow pepper

1

red pepper

1

dl

extra virgin olive oil

15

gr

fresh mint

0.5 oz.

2

lemons

salt

pepper
Instructions
Soak the dried grapes in water. Bring to a boil some water. In a bowl, add as many as glasses of semolina than glasses of boiling water with a pinch of salt and a bit of olive oil. Cover and leave for 5 minutes. Then fluff with a fork and reserve to cool.

Slice the onions. Heat a pan with some olive oil and brown them. Then add the dried grapes and the brown sugar on top of the onions and cover with water. Leave to cook until there is no more liquid and reserve to cool.

In the meantime, wash, peel and dice the cucumber. Wash and dice the tomato. Chisel the fresh mint.

When onions and semolina are getting cold, mix with the vegetables. Then add the juice of the two lemons, the extra virgin olive oil, the fresh mint, salt and pepper. Mix during 2 minutes and place in your fridge for at least 1 hour.