Have you ever had the chance to taste and barbecue Korean? If you answer no to this question, you have to get started. It's a must have life experience.
Few of you, it seems to me, know my passion for Asian cuisine. With the name of my blog, Une French girl cuisine, I had set the tone without perhaps wanting to.
Since then, I have confined myself for years to sharing with you cooking recipes preferably of French culinary inspiration, I venture from time to time in one country or another, trying to stay around our European borders, but …
On the inside, I am quite different. I've always loved foreign cuisines, especially as soon as I managed to add my "French touch" to it. A little red wine in fajitas won't hurt anyone…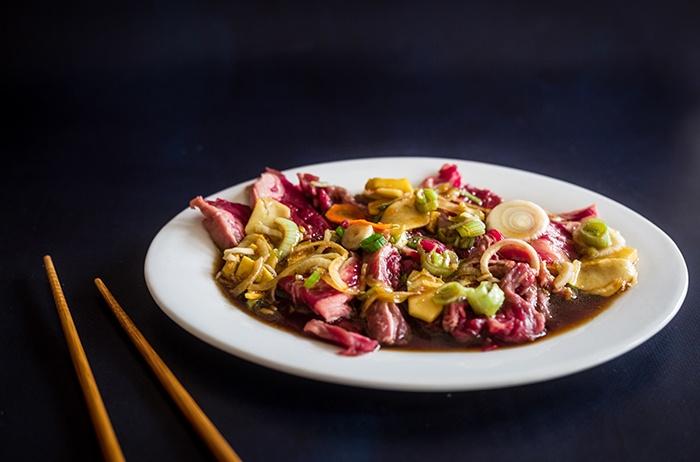 In short, all this to say that beyond French cuisine, I am a big fan of Asian cuisine. During my university exchange in China, I certainly had the opportunity to discover Chinese cuisine but also to discover other cuisines from neighboring countries. Including Korean cuisine.
In fact, the neighborhood where I lived in Beijing, Wudaokou, was full of Koreans. And who says Korean, says Korean restaurant and Soju!
It was there that I had my first Korean barbecue experience. What was my surprise! It was simply a delight, a treat, it was simply magical!
A French (Breton) friend that I met there at a Lithuanian friend that I had met in the street who was organizing a party… Yes, that's a real story… was hanging out with a group of students Koreans who were learning Chinese.
This is where I started to learn a lot about Koreans.
Girls should put their hands in front of their mouths when they are laughing.
They must allow themselves to be served alcohol by a man…
We played alcohol games where you had to clap your hands every 5, numbers that contained seven and a multiple of 5 or 7 or 3 in short, I can't remember. Anyway, that's how I learned to count in chinese.
We would buy a bottle of soju (a kind of Korean white wine), order beer and pour a shot of soju into our beer to spice it up a bit :).
These are unforgettable memories for me. I feel so lucky to have been able to live these kinds of experiences and to have had the chance to discover some facets of other cultures.
In short, I primarily wanted to share a culinary experience with my discovery of Korean barbecue and not a life experience :).
In a nutshell, a Korean barbecue is grilled meat that is enclosed in a salad leaf (a head lettuce) accompanied by a few pickles like kimchi (fermented Chinese cabbage).
A little bit of soy sauce or other sauce. Turn the salad leaf with your fingers to close it and bite into it.
Korean barbecue is a special barbecue that runs on gas and lets marinade and fat drop to the bottom of the barbecue. Since I don't have one, I use my plancha but why not use a stone grill or any other machine that grills meat!
You can find all kinds of meats and marinades, but my favorite and by far the best is bulgogi beef! This is the recipe that I will share with you today.
Korean barbecue beef bulgogi
Ingredients
800

gr

beef

Parisian entrecote type

10

tbsp

soy sauce

1

tbsp

brown sugar

4

tbsp

liquid honey

2

tbsp

mirin

4

tbsp

sesame oil

2

cloves

garlic

1

onion

1

pear

2

spring onions

1

head salad

washed and stripped

1

kimchi jar
Instructions
Slice the piece of meat into very thin slices.

Combine all the ingredients for the liquid marinade.

Add the onion, garlic, pear and 2 finely chopped spring onions.

Put the meat to marinate in a deep plate.

Cover with cling film and refrigerate for 1 hour.

Take out the meat 15 minutes before lighting your barbecue.

Each guest grills their meat in turn and puts it in a salad leaf with a little kimchi.
Tips for a successful Korean barbecue :
Prepare a large quantity of salad to have enough.
It is possible to accompany the barbecue with a bowl of rice.
Place the barbecue in the center of the table.