This is from far away my best sorbet. So tempting … When I was taking my pictures, that was so difficult to resist. It looks so delicious. I could not imagine to through it away. This sorbet was better in my stomac, even if it wasn't the time to eat …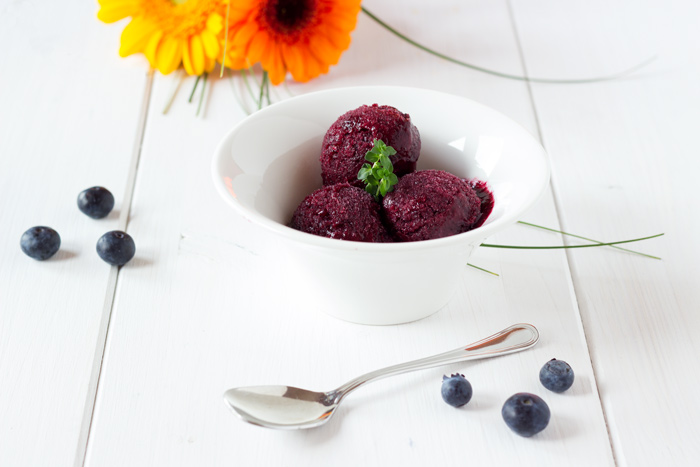 Blueberry sorbet, it pops up in my head. My mother in law let me her ice cream maker as a result I am almost only eating sorbet right now. I am freezing everything. And good news, she told me I could keep it a bit longer.
This sorbet was so tasty that I will not mind to make it and eat it again… In summer or in winter that's my best friend. I have no idea if I am the only one thinking that. But I find sorbet even more delicious next to a fire covered with a plaid when it is snowing outside ! So warm right now that I am almost missing winter, just for few seconds during the day … and … all night …
You will find below the recipe, I hope that you and your family will enjoy it. If unlike me, blueberry isn't your thing you can also try one of my other sorbet recipes, banana sorbet, …
Blueberry sorbet
Ingredients
750

gr.

of blueberry

100

gr.

of sugar

the juice of 1 lemon
Instructions
Wash blueberry.

Add in a little saucepan with lemon juice and sugar.

Cook for 5 minutes on low/medium heat. Monitor cooking process.

Mix with a hand blender.

Leave to cool.

Fill in your ice cream maker.

Freeze and serve !
Thank you very much for reading. Register to the newsletter or follow me on the social media in order to receive the latest recipes.