This tart to get a last taste of the summer sun. This delicious tuna and tomato tart with Dijon mustard is the best for beautiful days but also to fill in your lunch box to eat something tasty at work. We still need to eat at lunch and I do not know about you, however at home we cook all sunday for the all week. Tarts, salads, soups, stews … We fill in our tupperwares made with glass, healthier to warm up using a microwave and we are set for the all week. That's good for our wallet and tastier that what we usually find around the office.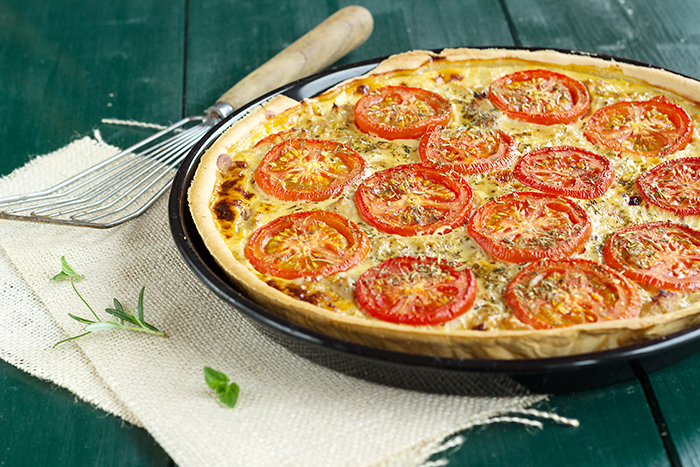 Usually we cook for 4 days and I allow me to go out to a nice restaurant near by once a week.
Anyway, I cooked this recipe many times. Some of my colleagues tried it and this recipe was definitely approved.
If you are also fan of homemade recipes, you will find plenty of recipes' ideas on this blog.
Tuna and tomato tart with Dijon mustard
Ingredients
2

tablespoons

of Dijon mustard

2

tuna cans 200 gr. each

155 gr. drained

25

cl.

of cream

1

egg

pepper and salt

4 to

matoes

Herbs Provence
Instructions
Preheat oven to 200°C.

Put short pastry in your pie plate, prick with a fork.

Wash tomatoes, slice. Reserve enough slice to put on top of the tart and dice the rests.

Shredd tuna. Add egg and cream in a mixing bowl. Then incorporate tuna and diced tomatoes. Season with pepper and salt.

Pour this mix in your tart.

Place tomato slices on top to decorate the tart.

Sprinkle with Herbs de Provence and bake approximately for 40-50 min.