I wanted to share with you today a sunny recipe! The summer can end outside but doesn't need to end in your kitchen! I really like recipes from south of France because it makes me feel at home! I hope you will have the same feeling when you will eat this tart!
This is a typical recipe from Nice in the south east of France. The pissaladiere can look like a kind of pizza; but in fact it is made of bread pasta and not pizza pasta. Additionally you do not have any tomatoes in the following recipe. The Pissaladière is a tarte made of bread pasta, onion and anchovies.
Pissaladiere Recipe
Author:
Prep time:
Cook time:
Total time:
Ingredients
500 gr. of flour (3.84 cups or 1.1 lb.)
20 gr. of fresh baking yeast (0.7 oz.)
2 dl. of water (0.8 cup or 6.6 oz.)
1 dl. of olive oil (0.4 cup or 3.3 oz.)
50 gr. of seeded black olives (0.3 cup or 1.78 oz.)
12 anchovies
1,5 kg. of onion (3.30 lb.)
8 unpeeled garlic cloves
1 tablespoon of sugar
2 teaspoons of fresh thyme
Instructions
Dissolve the fresh baking yeast in the water.
Mix in your robot the flour, water (with baking yeast), olive oil and salt. When you got a nice pasta, cover with a towel and leave for 1 hour.
In the meantime slice the onions and cook the onions with 2 anchovies and the unpeeled garlic cloves for around 45 minutes in a pan covered with olive oil.
Preheat your oven to 200°C (400°F).
Spread the pasta on a baking tray covered with greaseproof paper.
Spread the onions.
Add on top the olives, unpeeled garlic cloves and the rest of the anchovies. Bake for around 30 minutes.
You can eat a pissaladiere as an appetizer or as a main dish with a salad for example and you will enjoy even more this pissaladiere with a glass of rosé from Provence.
I hope this recipe brought a little bit of sun in your kitchen!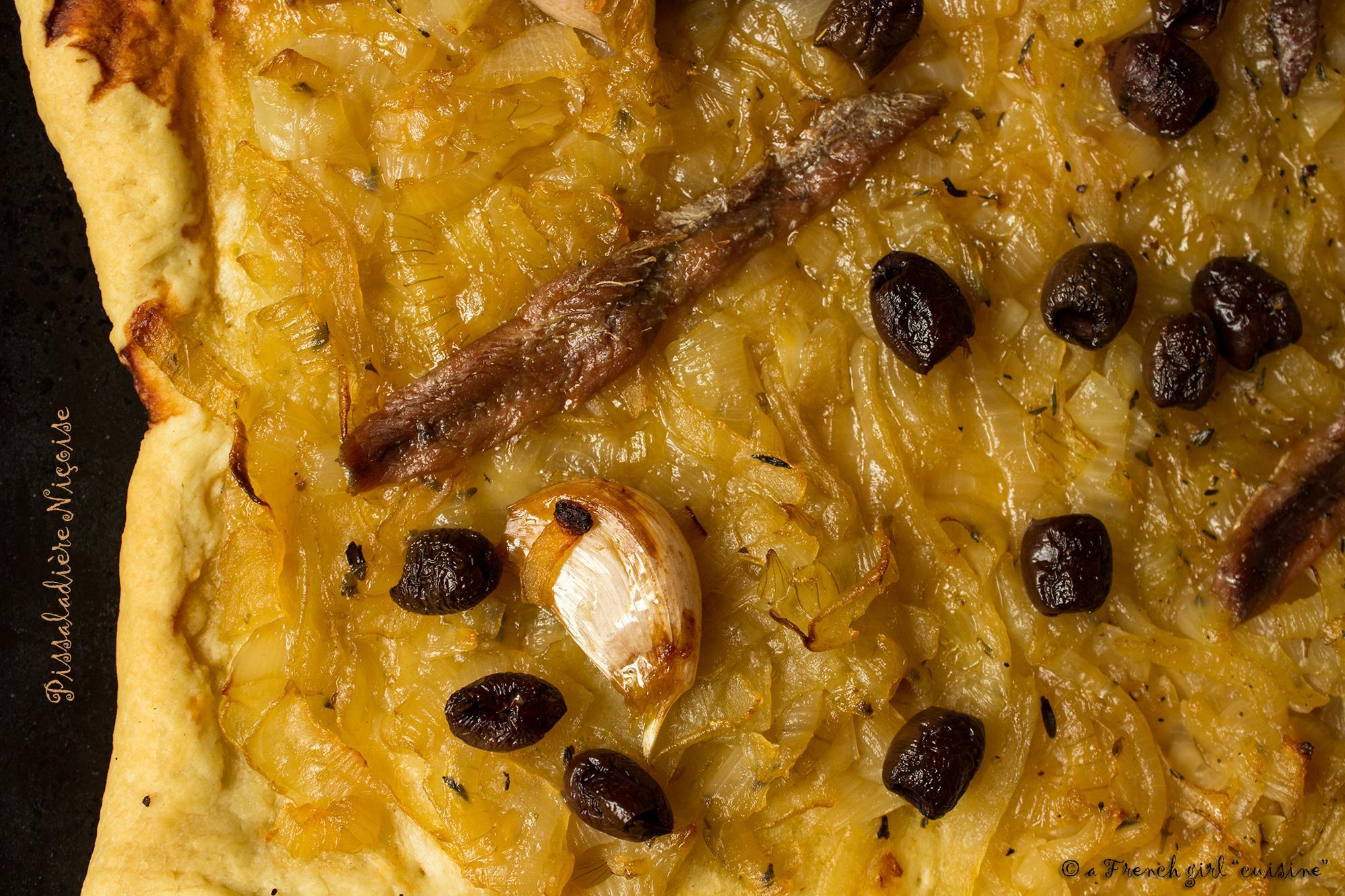 Thank you very much for reading. Register to the newsletter or follow me on social media to receive the latest recipes of a French girl "cuisine".