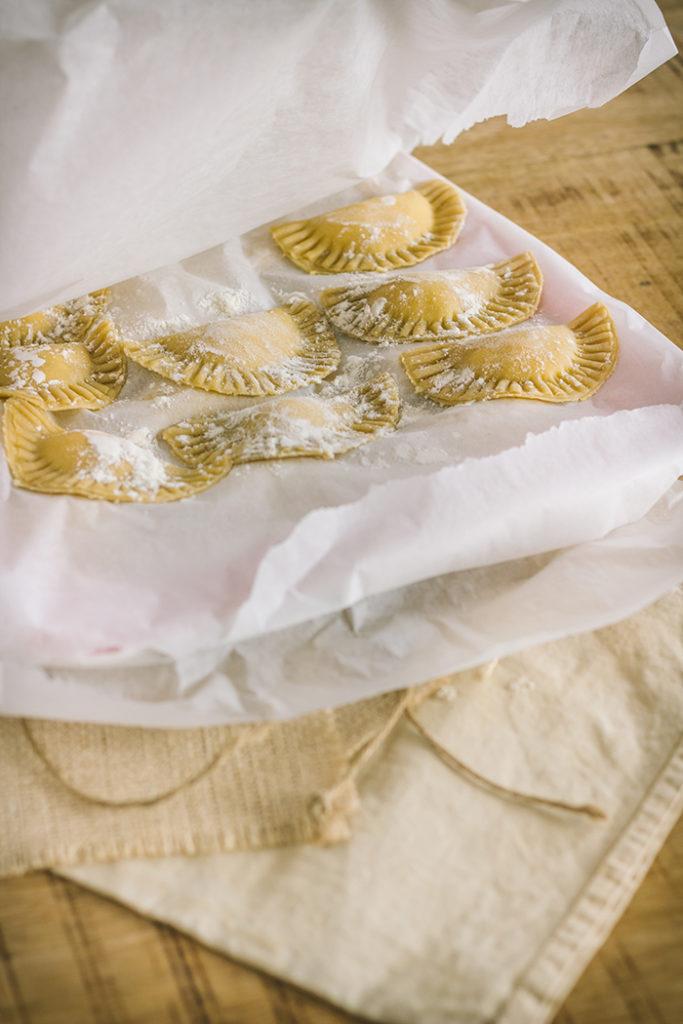 What can we do when half of our guests for the holidays are vegetarians? I only have one in my family, er my in-laws, but… it still requires me to use my imagination to come up with ideas for festive meatless dishes. If you too find yourself in the same situation, or if you are a vegetarian yourself, look no further. This homemade ravioli recipe topped with ricotta and truffle oil will delight your taste buds and your family. In short, you will kill one stone, two birds.
Ricotta and truffle ravioli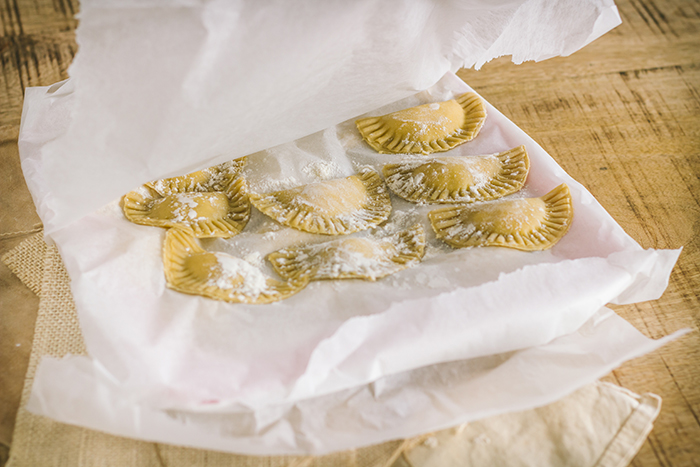 So after careful consideration, I started making ricotta ravioli, but I wanted to make them look festive … what better way than to add a few drops of truffle oil to the stuffing.
In the end, making ravioli from scratch is a fairly simple recipe that you can make on many other occasions besides Christmas. So it's up to you to choose the right time. You have just to make fresh pasta dough first!
Ravioli with truffle and ricotta
Ingredients
Ravioli dough
300

gr

flour

3

eggs

1

tbsp

olive oil

½

tsp

salt

1

tbsp

water
Prank call
100

gr

fresh ricotta cheese

100

gr

mascarpone

2

tsp

truffle oil

salt

pepper
Instructions
Ravioli dough
Put the flour in a bowl Add the eggs, olive oil, salt and water. Knead the dough with a food processor or by hand until you obtain a homogeneous and supple dough.
Prank call
Combine all the ingredients in a bowl. Adjust quantity of the truffle oil depending on your taste.
Mounting
Spread the ravioli dough on a floured work surface with a rolling pin or use a pasta machine until 4 or 5.

With a small spoon, make small piles in the center of the sheet of pasta.

Fold the dough in half.

Weld around the ravioli with your fingers then cut with a knife in the middle of each small pile of stuffing to make your ravioli.
Cooking
Bring a pot of salted water to a boil.

Immerse your ravioli in boiling water and cook for 5 to 8 minutes depending on the thickness of your ravioli. The best is to taste.
Let's go with the recipe.