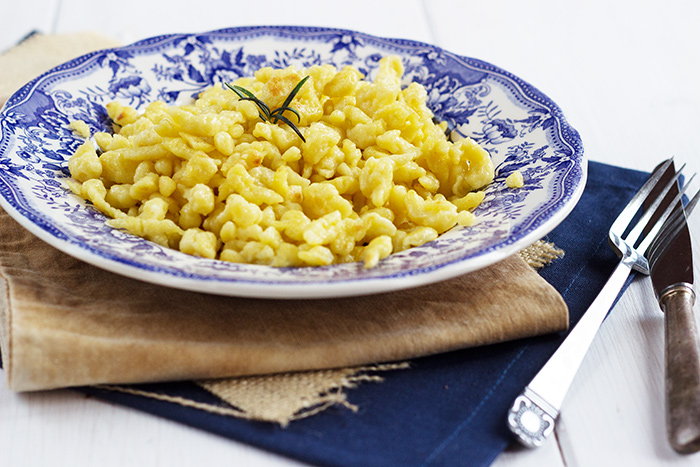 For the last recipe of the venison serie, here come this homemade German spaetzle recipe. Do you remember the käse spaetzle recipe that I shared with you some time ago. So that's almost the same thing without cheese and onion! Here we want to prepare a side dish going well with venison stew or any kind of meat actually.
Spaetzli, spaetzle, German speaking people do not agree on where it first appeared but everybody agrees on the taste. I hope you will enjoy the recipe.
Homemade German Spaetzle Recipe
Ingredients
600

gr.

of flour

8

eggs

200

ml.

of milk

1

teaspoon

of salt

30

gr.

of butter
Instructions
Mix flour, eggs, milk and salt with a wooden spoon or a food processor for 10 minutes until you get a homogeneous paste. Leave to rest 1 hour. Tips : After 1 hour you can see bubble if you mix really quickly with a wooden spoon from top to bottom.

Bring to boil a large casserole dish. Place the Spätze-grater on top of the casserole. Pour some of the spaetzle paste and move back and forth quickly or more slowly depending on the size of the spaetzle you want to make.

When they come to the surface, they are done !

Put them little by little in a bowl filled with cold water, so the spaetzli do not stick when cooling down and reserve in another recipient.

Melt butter in a large frying pan and brown spaetzli before serving.