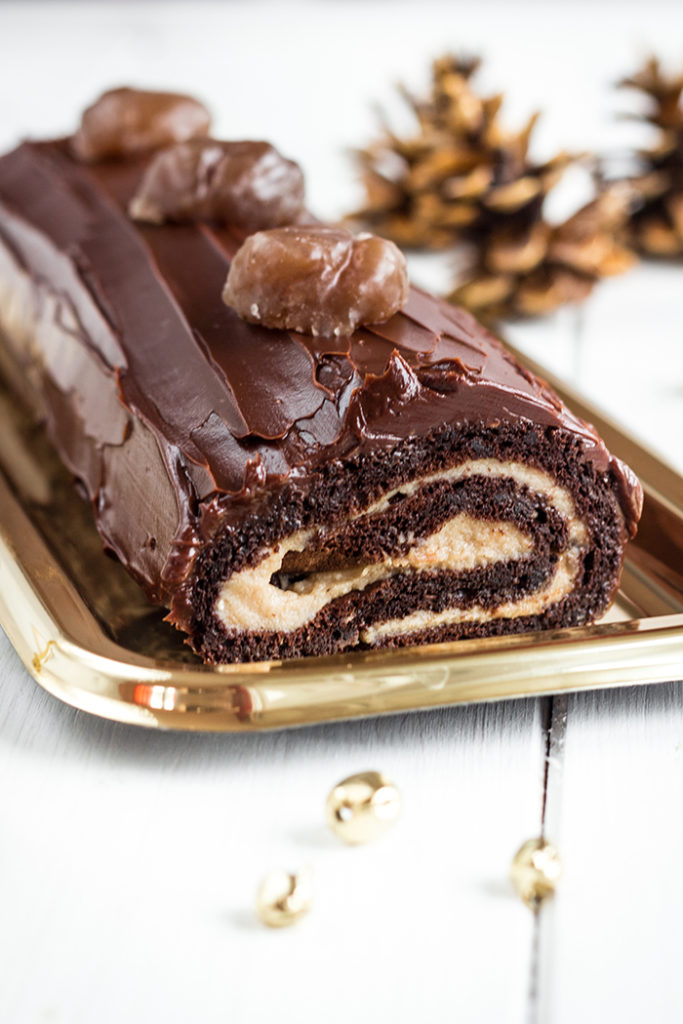 What are you planning to prepare for Christmas dinner? Do you already have an idea? My mother has always been a fan of those pastry logs found in French supermarkets, but I am not so much. I think it's always much better homemade. So I took on the challenge of redoing more or less one of these logs with this easy chocolate and chestnut bûche de noël to make her happy and especially to please me.
But do you know what a buche de noel is ? That's THE dessert, we are usually having for Christmas in France. In your country do you also have a special dessert that you are having every year for Christmas Eve ?
The advantage of rolled logs is that they are very easy to make and keep well so no last minute dessert between cutting your poultry and preparing the toasts. You can do it the day before without worry.
Chocolate buche de noel cake
Today no frozen log, but a beautiful Christmas log with broken candied chestnuts. If you enjoyed the traditional chestnut log and my candied chestnut and mascarpone whipped cream log, I think you will love this one.
This is an easy recipe compared to some other log recipes. You will enjoy surprising your guests with a such delicious dessert that they are definitely gonna remember.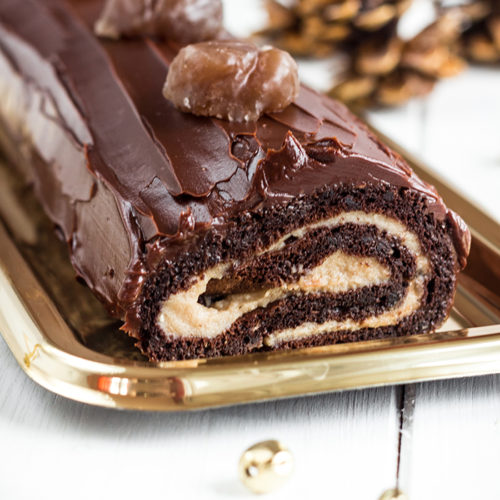 Chocolate and chestnut Yule log recipe
Ingredients
Chocolate rolled cake
6

eggs

150

gr

sugar

50

gr

bitter cocoa
Chestnut cream
250

gr

mascarpone

1

jar of chestnut cream

350 gr
Chocolate ganache
400

gr

dark chocolate

200

gr

butter
Mounting
50

g

of candied chestnuts

3

whole candied chestnuts for decoration
Instructions
Chocolate rolled cake
Preheat the oven to 180 ° C.

Separate the white from the yolks.

Whisk the yolks with half the sugar until the mixture turns white.

Add the cocoa powder in the yolk mixture.

Beating egg whites in a medium bowl. Add the other half of the sugar when they are firm.

Incorporate the egg whites with the chocolate preparation in a large bowl.

Spread out on a baking sheet lined with parchment paper.

Bake for 18 min. The cookie is baked.

As soon as it comes out of the oven, place a slightly damp cloth on the cookie. Turn the cookie over. Gently peel off the baking paper then roll the cookie. Keep it in a damp tea towel, closing the edges a bit like a papillote.
Chestnut-based cream
Mix the chestnut cream with the mascarpone.
Mounting
Unroll the cookie.

Spread the mascarpone / chestnut cream mixture.

Sprinkle with chunks of candied chestnuts.

Roll the log.
Chocolate buttercream
Melt the chocolate with 4 tablespoons of water.

Add the butter.

Whisk until a smooth paste is obtained.

Assemble using an electric mixer with high speed to incorporate air.
Mounting
Cover the Yule log with the chocolate ganache.

Place the 3 candied chestnuts.

Leave to set in the fridge for a few hours.

Trim the edges with a bread knife before serving.
Chestnut cream Christmas log
To be honest, I don't think I could survive without chestnut cream. Besides, in Switzerland I can't find my favorite … I have to settle for chestnut jam, which is certainly very good, but not my favorite brand. Besides, I tell myself that maybe I will go for a homemade one, it can only be better, right? Do you have some where you live ? Is it easy to find ? I would love to have a chestnut tree but I assume I will have to buy some if I want to make it.
Tips and tricks for a successful holiday dessert
It's not always easy to know which dessert to prepare for the holidays. We already spend so much time in the kitchen, then we are afraid of missing out and having spent all that time there for nothing. So here are some tips and tricks to enjoy the holidays while making a delicious chocolate Yule log.
Prepare it the day before, it will only get better. And to prevent the edges from drying out, you can trim them on D-Day.
Cut off the ends of your log with a bread knife to keep it a nice shape.
Store your rolled cookie in a damp cloth so that it does not become brittle.
To decorate your buche de noel, you can add some meringue mushroom.
Try to use quality chestnut cream, the taste will be way better.
Do not forget to incorporate air in the chocolate ganache, that's what is gonna make the ganache so exquisite and easy to work with.
What do you want for next year ?
Every year I am baking one or two buches de noel that I am publishing the following year. If you have any idea about the one you would like me to bake just let me know and I am gonna try to make your dream comes true :).