There you go, off we go for a ride. We are slowly entering the Christmas period that's why I wanted to share with you these delicious Christmas jam cookies. In Switzerland, stores have been displaying windows full of Santa Claus figurines for at least a month. Even earlier than last year. We haven't even seen the Halloween decorations… Cities are starting to light up the streets. My daughter told me "oh look at a star" a month ago. I know it takes a while to install a light bulb, but hey …
End-of-year celebrations to reinvent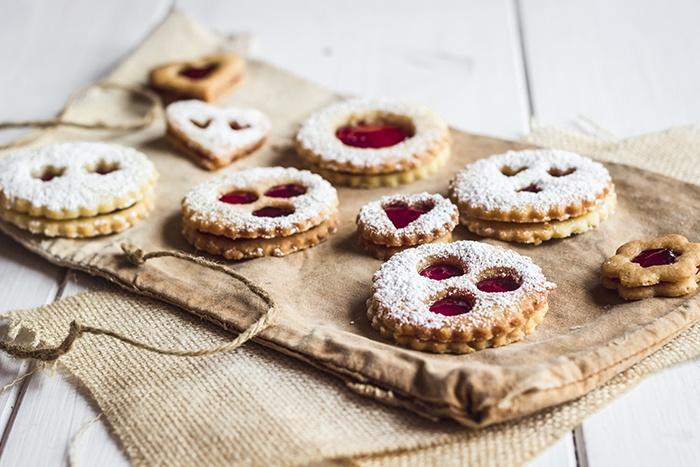 This year, these holidays are going to be weird. While each year, I look forward to the end of year celebrations … Switzerland is full of Christmas markets with mulled wine, raclette and pancakes at will. Thursdays turn into a mulled wine race and fine tasting of oysters and foie gras.
And this year… The streets are empty… Nothing, no Christmas market. My birthday promises to be sad… It's not a coherent strategy knowing that the Christmas markets well… it's outside… and the mulled wine, it kills germs, right?
Then I tell myself that we shouldn't be let down, so what better way to make a revolution than to bring out the icing sugar, the gingerbread and the bottles of mulled wine! If it's not possible to find it in the log cabins, my gosh, I will cook it in my kitchen and it will warm our hearts.
It is important today to be united, because who will or will not catch the covid can still potentially have a nervous breakdown … So in your stove, let's bake cookies with our children (or without) for our loved ones and our neighbors (or not) and try to live in a world of care bears rather than bitching or moping all day …
Easy and Quick Christmas Cookie Recipes
I discovered jam filled cookies when I arrived in Switzerland. My husband is crazy about it, I like it (but I prefer candied chestnuts). An easy recipe to make with your kids. Christmas cookies aren't just made of gingerbread! These biscuits with no baking powder will melt in your mouth. Enjoy!
Christmas Jam Cookies
Ingredients
250

gr

butter

120

gr

sugar

1

egg white

1

pinch

salt

2

tsp

vanilla sugar

350

gr

flour

4

tbsp

icing sugar

1

jar

apricot jam
Instructions
Cut the butter into cubes, put in a bowl and mix to obtain a soft butter.

Mix butter and sugar until you get a frothy mixture.

Add the flour and the other ingredients, knead the dough and let the dough covered with cling film rest in the fridge for one hour.

Preheat the oven to 200 ° C.

Roll out the dough to 2mm thick.

Make round shapes and place them on baking sheet with parchment paper.

Decorate half of the cookies by cutting out small shapes (1 to 3).

Bake in the middle of a preheated oven for 8 to 10 minutes till golden brown.

Remove from the oven, let cool.

Sprinkle the cookies with the small holes with powedered sugar.

Heat the jam a little bit, spread a layer over each solid cookie then cover with a cookie with small holes.
Tips and tricks for the best Christmas jam cookies
Some tips and tricks to bake the best ever Christmas Cookies.
Use raspberry jam or strawberry jam for even more pleasure
Bake just a lot and keep them in a metal box or a glass jar
You can add some vanilla extract